Het kan voorkomen dat er data van je kaart verdwenen is die je graag weer terug wilt hebben. In sommige gevallen is dit nog mogelijk, ook al heb je bijvoorbeeld de foto verwijderd of je sd-kaart geformatteerd.
Wanneer SD kaart recovery?
SD Kaart recovery kan werken in de volgende gevallen:
Per ongeluk verwijderen van bestanden, ook met shift + del of in de prullenbak verwijderen.
Formatteren van sd-kaart, bijvoorbeeld na de error: "Drive is not formatted, would you like to format now?"
Uitzetten van apparaat tijdens het kopiëren, sd-kaart uit de camera halen terwijl die aanstaat, sd-kaart gebruiken in verschillende apparaten etc.
Andere gevallen: virus, stroomstoring, harde schijf crash, partitie errors etc.
Als één van de bovenstaande punten jou is overkomen en je wilt je data terug hebben, dan is dit je laatste hoop. Met speciale software kun je een recovery/herstel op je sd-kaart doen, waarmee je oude bestanden weer tevoorschijn komen. Houdt er rekening mee dat dit het beste werkt als je NIETS meer met de sd-kaart doet na de bovenstaande punten. Als je alsnog bestanden op de sd-kaart plaatst kan het zijn dat dit de oude data overschrijft.
Probeer gratis het herstelprogramma Wondershare Data Recovery.
Na de installatie start je het programma en volg je de stappen.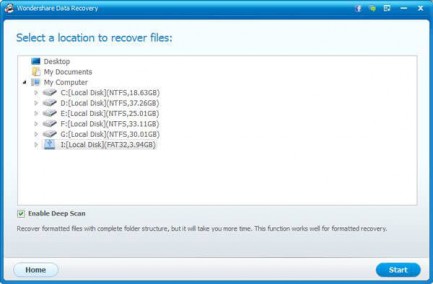 Kies je SD-kaart uit de lijst met schijven en laat het programma zijn werk doen. Als het programma klaar is, zie je als het goed is je oude bestanden terug.
Sla ze snel op (niet op de sd-kaart). Voor de zekerheid kun je een nieuwe sd-kaart aanschaffen, maar in de meeste gevallen wordt dit niet veroorzaakt door een hardwarematig probleem.
Als dit ook niet lukt of de sd-kaart wordt nog steeds niet herkend, dan kun je er nog voor kiezen om een professioneel data recovery bedrijf te laten kijken. Deze gebruiken geavanceerde methodes om de data terug te halen. Natuurlijk zit hier een prijskaartje aan vast, maar als er belangrijke foto's op staan dan is dat het meestal wel waard. Het bedrijf waar wij mee samenwerken, Viningmedia, werkt op no cure no pay basis!